Note: this recpie is based on a recipe by the owner of a famous Israeli Shawarma place called "Shawarma Ha-Kosem", or in pure English: "The Magician's Shawarma". link.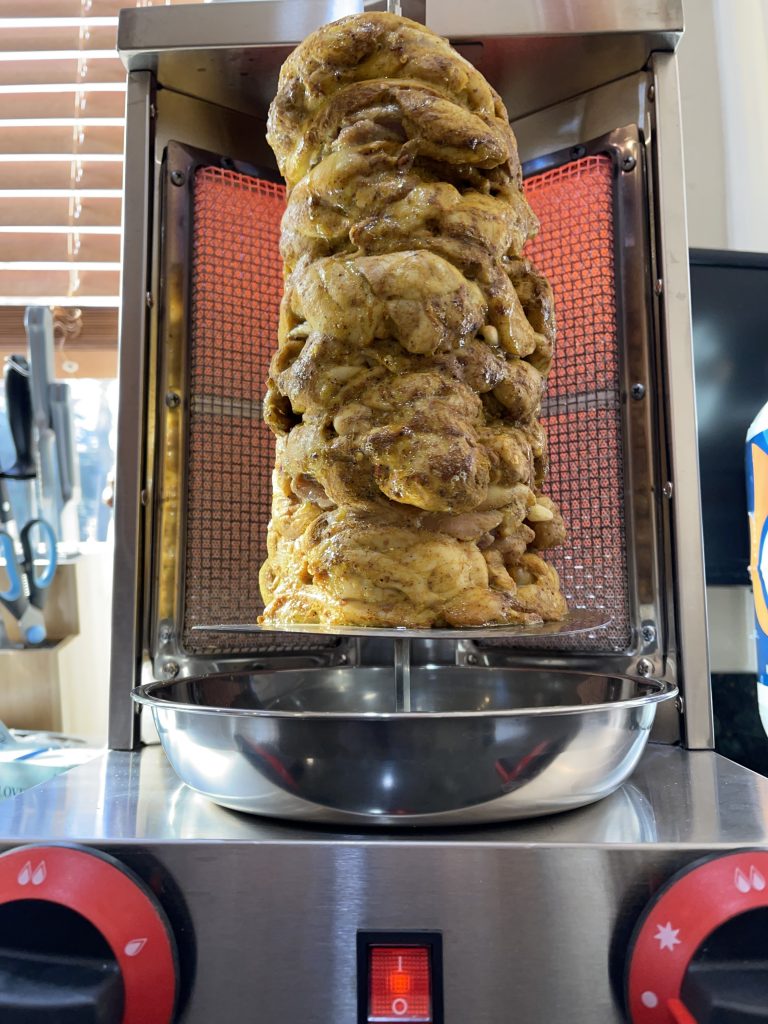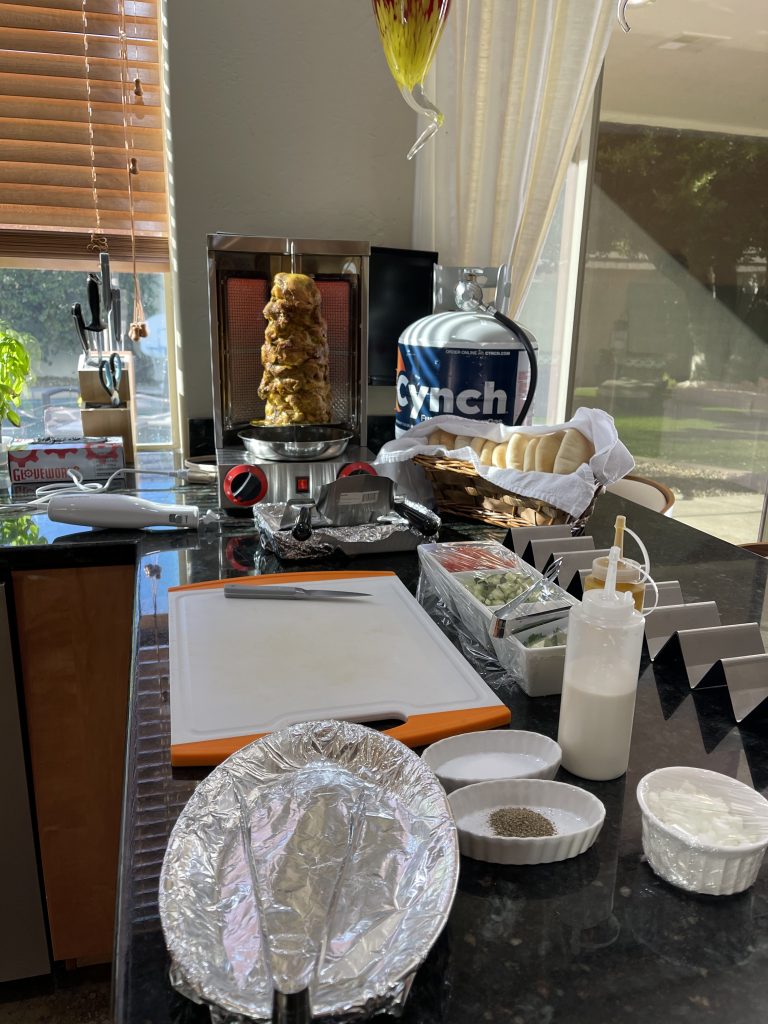 My Shawarma recipe is the result of a long search for a good Shawarma that matches what I remember back home in Israel.
Growing up in Ramat Gan, Israel, I had access to one of the most famous Shawarma places in the country, which is still there to this day, called "Shawarma Shemesh" ("The Suns' Shawarma").
Shemesh (i.e. Sun) is a somewhat common last name in Hebrew, for Iraqi immigrants, which many of them ended up clustering in the city of Ramat Gan. The place is named after the last name of the owner, to the best of my knowledge.
People would stand in line to get a serving of this amazing Shawarma staffed into a fresh pita with very few simple additions: some fresh diced tomatoes and cucumbers, tahini sauce, a bit of amba sauce (a strong flavored yellow condiment made of pickled mango), some hot peppers spicing paste (SCHUG), and maybe some french fries. But the hero is the meat.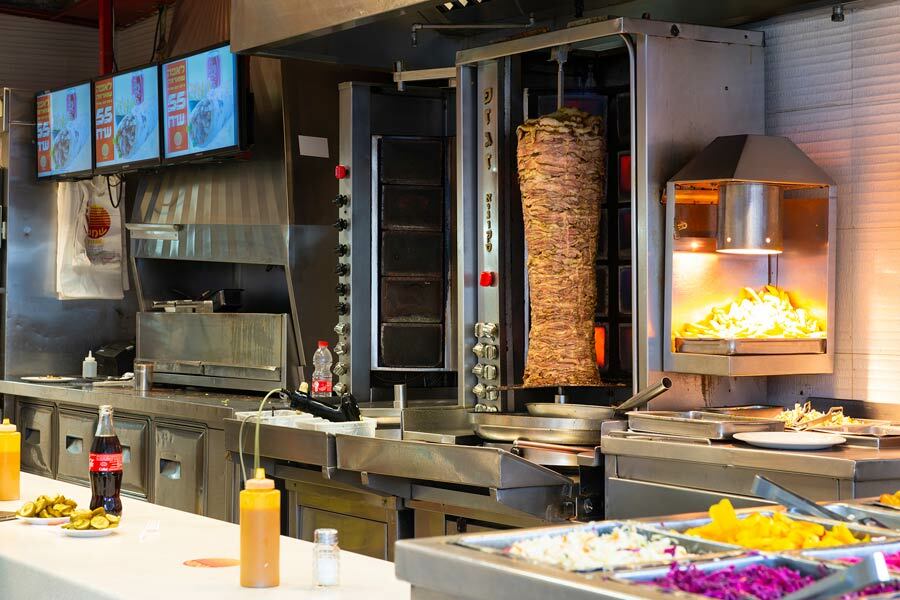 In more recent years, the very hungry people could get their serving wrapped inside a 10″ flat pita, known as an Iraqi pita, instead of inside a pita's pocket. This is called a LAFFA (Arabic for roll), and it will typically look like this: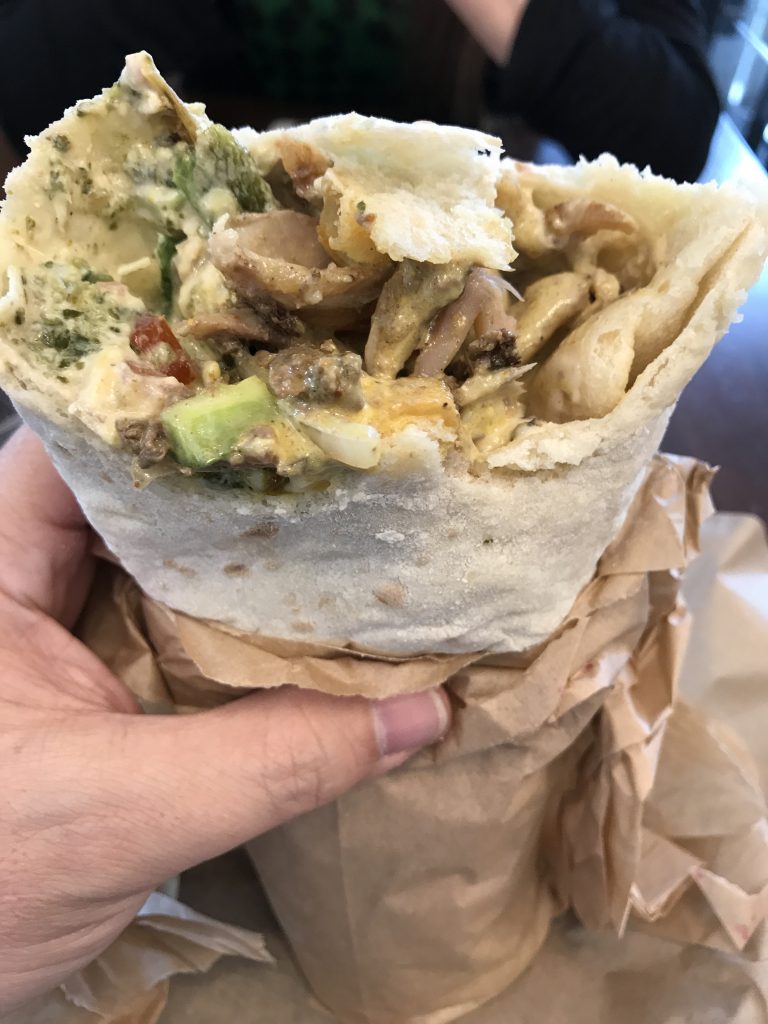 But no matter how you consume your Shawarma, once you had your first one you can't go back. No offense to the greek Gyro (and I'm not even talking about the American version that is basically a huge pile of processed meat, like a rotating hotdog), a good old Shawarma taste fresh, you can feel the meat, you can see the meat, and the flavors are to die for.
Usually, it is made of layers of female turkey thighs, which are hard to find in the US, but my version is using chicken thighs, and gets the same result, if not even slightly better if I can say so myself.
In my personal opinion, the flavor is controlled by two main factors: the dry rub spices mix you use, and the quality plus amount of the lamb fat that is running throughout the meat.
If you nailed these two, any decent meat will work. You can find great Shawarma made of Turkey, Chicken, Lamb, or a mix of these. But my favorite has to be the Turkey and Chicken ones. They are the juiciest, and they observe and retain the flavors of the dry-rub and the fat, in the best way.
My Shawarma Recipe
Ingredients:
For the dry-rub (enough for more than a single serve):
2 tablespoons salt
2 tablespoons turmeric
2.5 tablespoons hawaij
1.5 tablespoons Baharat
1 tablespoon ground black pepper
0.5 tablespoon ground coriander
0.5 tablespoon ground cardamom
0.5 tablespoon crushed red hot chili peppers
1.5 tablespoon ground cumin
For the meat skewer:
5-6lb Chicken thighs (deboned, no skin, fat trimmed). Tip: Costco's thighs are perfect. 2-3 of their 6 pouch pack is a perfect size.
~1lb ground lamb fat
~5oz sliced ​​lamb fat
6 tablespoons Amaba spread
Optional: 1/2 cup pinenuts
Optional: small onion
Optional: small tomato
Directions:
Mix all spices of the dry-rub well (this will last for more than a single making, so keep the leftovers for future use).
Clean the meat from any large patches of fat or non-meat artifacts like ligaments etc.
Butterfly or split the thighs into flat ½" fillets
Rub the meat with the spices mix and let it sit for at least 10-15 minutes (overnight in the fridge is optional, but really not needed)
Depending on the method you choose to build the skewer (see alternative options at the end), place 2-3 layers of the meat, followed by about ¼" of ground lamb fat (see picture below)
Spread a bit of Amba on the fat (I also like to add some pinenuts at this point)
Repeat until you are done with all the meat, or out of skewer space, whichever comes first 😅
Make sure to leave enough space at the top for your machine to handle the skewer.
Top with a few layers of sliced lamb fat
Optional: wrap the whole skewer in a plastic food wrap and roll to tighten the shape.
Optional: Leave the skewer in the fridge over-night, to let the dry-rub sink dipper into the meat, or if you simply want to prepare the skewer the night before the big day.
Optional: put a small onion and tomato on top, just before starting the cooking process.
Gameday: Making the Shawaram
Cooking time is different depending on the method you use, but anywhere between 40-60 minutes is the time it would take to have the outer layers ready to be eaten.
Although the outer layer is more cooked than the inner layers, after the first 45-60 minutes, most of the meat is already cooked, and the only difference is the amount of crispiness you'll get by letting fresh layers of unshaved meat rotate a bit more against the fire/heat source.
As for temperature, I don't have a good number for you, just start high and monitor to not burn your meat.
On an electric or propane rotisserie, it takes about 45-60 minutes, and the heat is almost fixed. If you can adjust the heat, you can lower it after the 45 minutes mark.
As soon as the meat starts to look ready, start shaving it using either a very very sharp large knife, or the better option is one of these electric carving knifes you can buy on Amazon for less than $20.
Serve the shaved meat in a pita with some hummus spreaded, diced tomatoes and cucumbers, some drizzled tahini sauce, and french fries, and you are all good to go.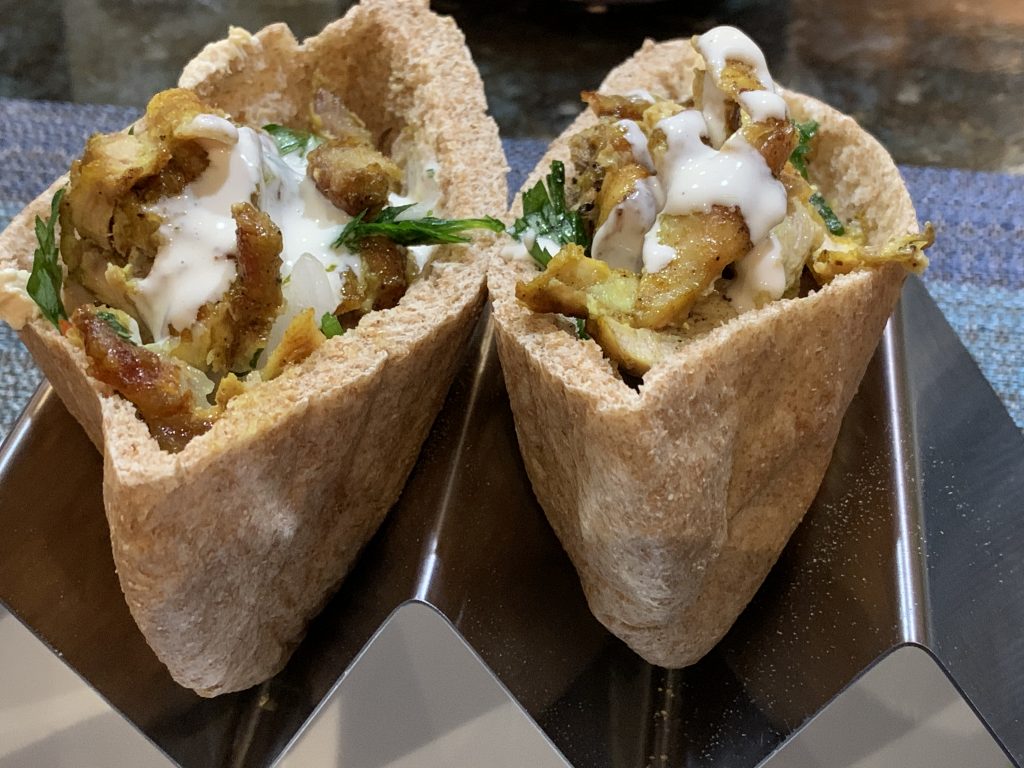 Want a more gluten-free option? skip the pita, plate on a bed of rice or in a plate of Hummus, drizzle some Tahini on top, and you are set.
Getting serious: invest in a shawarma machine
Although I will list below few alternatives for making your shawarma without a dedicated machine, the best option is to use a machine. Here are a couple of options you can use on a tight budget.
You can find both electric rotisserie machines and propane-based machines on Amazon at prices ranging between $85 – $250. Do your research carefully to make sure the seller is trustworthy. These reviews are important!!!
In any case, make sure to use or buy an electric knife to carve your meat, because it has to be a very sharp knife to handle this meat and most people don't have these special knives at home, and also you don't want to keep sharpening your knife as you carve your meat.
The two machines that I have tried (but are not always available in stock on Amazon) are below.
Electric Shawarma machine
Note: I didn't use this exact one, but the one I used is discontinued, so this is the closest version I found.
Propane shawarma machine
Alternative methods if you don't have a Shawarma machine
Not all of us are so serious about Shawarma that we are ready to buy a machine. Don't worry, there are options for you as well. Here are a couple of methods that are known to give decent results.
Best alternative: in the oven in a loaf pan
Layer the meat in a baking pan.
Preheat your oven to 355ºF and cook for about 60-90 minutes.
Almost as good: on a wooden skewer
Cut a large onion in half. Place one half on your baking sheet, and push a wooden skewer into it.
Layer your meat on it and top with the 2nd half of the onion
Wrap it all in baking paper and then foil.
Preheat your oven to 355ºF and cook for about 60-90 minutes.
Pill off the foil and baking paper and put back in the oven for another 15-30 minutes for the final roast.